* THE OFFICIAL HOMEPAGE OF THE BAND SPELLBOUND - THRASH METAL FROM GERMANY *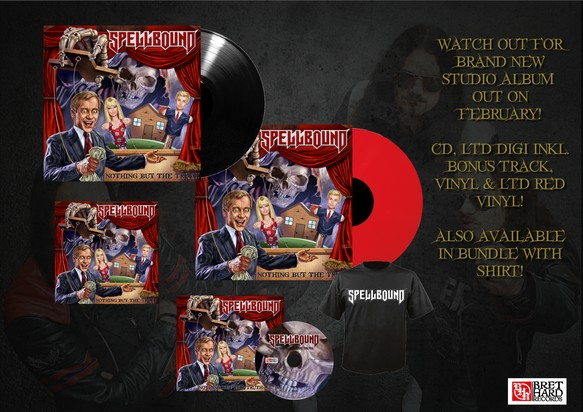 zum shop!

NEWS

16.05.15* Starting today, you can watch our latest video for "Shapeshifter" on our Youtube Channel! Thank you to everyone involved!



10.02.15 * We had to postpone the release date from 02/27 to 03/20 as the jewelcase versions failed to meet production standards. All pre-orders in OUR webshop received until NOW will be shipped nevertheless.

01.01.15 * A happy and rocking 2015 to all metalheads. To celebrate the new year we present you our brand new track "Forgotten and Gone" as a preview for our upcoming album!



12.12.14 * We present you the artwork for "Nothing but the Truth" HERE!

15.11.14 * As bonus track for our strictly limited digipack we revamped the Deep Purple classic "Fireball". So to get a digipack be quick or be dead…

02.10.14 * RELEASE DATE! "Nothing but the Truth" will be released February 2015 and will be available as CD, limited digipack with bonustrack, gatefold Vinyl and limited coloured Vinyl.

04.08.14 * Spellbound signs with BRET HARD RECORDS! We're looking forward to our collaboration!

18.05.14 * R.D. Liapakis (Mystic Prophecy) will master "Nothing but the Truth". We're happy to work with yet another professional for our new output. Liapakis is not only known for producing Mystic Prophecy and Steel Prophet but also for giving Thrashers like Suicidal Angels their sharp sound.


01.05.14 * On 30/08/14 we are guests on the Pray For Silence Festival to be with our old friends from Daksinroy celebrate their 20 year anniversary ! Be there guys!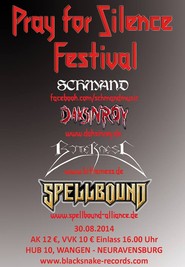 03.03.14 *The mix for the new album " Nothing But The Truth" is finished ! We can assure you now that the sound will crush absolutely timeless out of the speakers , but to act without inflated. Let us surprise you !

01.01.14 * Happy New Year!!

02.10.13 * Wir dürfen Euch heute unseren neuen neuen Mann an den dicken Saiten vorstellen: Domi Merz (Ex-Soul Demise / Final Breath) ist ab sofort fester Bestandteil der Spellbound Alliance! Welcome man!

28.08.13 * Die Suche nach einem Nachfolger für den ausgestiegenen Chris Stark ist abgeschlossen!
Bitte keine Bewerbung mehr schicken! Wir werden Euch demnächst informieren!

26.05.13 * New Bassist wanted! We need a new man for playing the thick-string-guitar!
More information HERE!

22.05.13 * Unfortunatly we have to cancel the Sun Valley Metalfest for personally reason! We
hope to see you guys next year!

05.02.13 * We decided to continue the hole production at the new album with Warthy Wartmann. Maybe you know this sympathic JUSTICE Guitarist from his work with Frei.Wild
or Unheilig..

01.01.13 * Heavy New Year Thrashers!

19.11.12 * The first confirmed live date for 2013 just went online! Thus, Spellbound will be guests on the Sun Valley Metalfest in Italy on 29.06.13!Mille Grazie!

15.11.12 * Ed Repka will design the new cover artwork for "Nothing But The Truth"! Most of you surely knows his work for MEGADETH, NUCLEAR ASSAULT, DEATH, ATHEIST or EVIL DEAD for example..
We are proud and grateful to be able to accommodate him in our history!


01.11.12 * The rest of the remaining year SPELLBOUND will spend their time in the studio to hit "Nothing But The Truth" around your ears, as soon as possible! This time Armin Donderer (PARADOX, FREEDOM CALL, etc.) will produce to make the sound not only bold but also very organic in appearance!

06.10.12 * SPELLBOUND ARE BACK!!!/NEW HOMEPAGE ONLINE!!!
After 3 years of silence, it's time again: SPELLBOUND are back! And more so than ever before! With a new line up, new website and brand new songs the Thrashers are back in the "New German premium Leage"!
Learn all about the band, the new line up and the progress of the long-awaited third album "Nothing But The Truth" HERE!